It's difficult for us to share the correct words that defined the bond between a mother and child. But, I have tried to explain the bond between a mother and child through bonding quotes. You'll see the best mother and child quotes with images in this article.
Mother and Child Bonding Quotes with Images
1. "The bond between a mother and her child is nameless, formless, undefined, of endless potential, unfettered by systems and scripture. It is the purest affection there could be, but yet unbelievable." — The Omniscient Writer
2. The relationship between a mother and her child is very powerful. No matter what our age is as long as our mothers are alive we want our mother, we crave for her smile, we lookout for her whenever something good or bad happens to us and that's life. —Goldie Hawn
3. The mother-child relationship, being exclusively one, cannot stand comparison with any other relationship. It is in fact, unique and incomparable. — Anonymus
4. The bond between a mother and her child is the only real and purest bond in the world, the only true love we can ever find in our lifetime. — Anonymus
5. No relationship on earth is so passionate, so deep-seated, so sincere and so genuine as one existing between a mother and her child. — Anonymus
6. "The mother-child relationship is paradoxical and, in a sense, tragic. It requires the most intense love on the mother's side, yet this very love must help the child grow away from the mother, and to become fully independent." — Erich Fromm
7. "A mother's love for her child is like nothing else in the world. It knows no law, no pity, it dates all things and crushes down remorselessly all that stands in its path."—Agatha Christie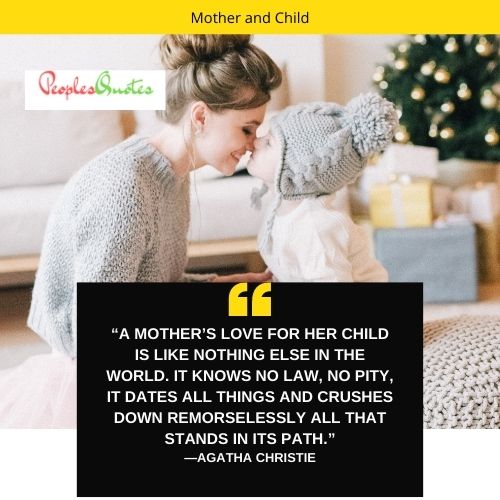 8. "How beautifully everything is arranged by Nature; as soon as a child enters the world, it finds a mother ready to take care of it." – Jules Michelet
9. In the lips and hearts of the children, Mother is known as God. Mother is a God's name for them. — William Makepeace Thackeray
10. "The moment a child is born, the mother is also born. She never existed before. The woman existed, but the mother, never. A mother is something absolutely new." — Rajneesh
Mother and Child Short Quotes
11. A mother is always the first teacher to her child. — Peng Liyuan
12. A mother understands what a child cannot say. — Jewish Proverb
13. "The mother's heart is the child's schoolroom." – Henry Ward Beecher
14. "A mother has to think twice, once for herself and once for her child." – Sophia Loren
15. "A mother's arms are made of tenderness and children sleep soundly in them." – Victor Hugo
16. Mothers hold their children's hands for a while, but their hearts forever. — Anonymous
17. "Even a mother's soul is tired, she will always find strength in her children." — Anonymous
18. Only mothers can think of the future – because they give birth to it in their children." — Maxim Gorky
19. Behind every great child is a mom who's pretty sure she's screwing it all up. — Unknown
20. Mother is the name for God in the lips and hearts of little children. — William Makepeace Thackeray
21. "A good mother loves fiercely but ultimately brings up her children to thrive without her." — Erin Kelly
22. The love of a mother for her child is undeniably the strongest emotion in the human soul. — Anonymous
Quotes About the Bond between Mother and Child
23. They are the beat of my heart, the pulse in my veins, and the energy of my soul. They are my Kids. — Anonymous
24. Mothers are the only ones that think nothing is beyond their control when it comes to their children. — Ali Fazal
25. A baby always feeds upon her mother's bosom at first and it is enough to melt her heart. –Henry Ward Beecher
26. In my life, you are the sun that never fades and the moon that never wanes. Shine on, my child. — Anonymous
27. "There will be many times you will feel like you have failed. But in the eyes, heart, and mind of your child, you are supermom." – Stephanie Precourt
28. "Whenever you're feeling hopeless, hug your child. It's amazing how they remind us our life is always full of love."
29. "The tie which links mother and child is of such pure and immaculate strength as to be never violated." ― Washington Irving
30. A mother is the only person on earth who can divide her love among ten children and each child still have all her love. —Anonymous
31. To my children… If I had to choose between loving you and breathing… I would use my last breath to tell you. – A Mother
32. In a child's eyes, a mother is a goddess. She can be glorious or terrible, benevolent or filled with wrath, but she commands love either way. I am convinced that this is the greatest power in the universe. — N.K. Jemisin
More quotes on Mom and Child Relationship
33. The more the child feels attached to the mother, the more secure he is in his acceptance of himself and the rest of the world. The more love he gets, the more he is capable of giving. Attachment breeds self-control, self-esteem, empathy, and affection, all of which lead to an increased ability to develop literacy. We don't know why, but it seems to be true. Attachment is as central to the developing child as eating and breathing. — Robert Shaw
34. "When you are a mother, you are never really alone in your thoughts. A mother always has to think twice, once for herself and once for her child."— Sophia Loren
35. "The natural state of motherhood is unselfishness. When you become a mother, you are no longer the center of your own universe. You relinquish that position to your children." — Jessica Lange
36. "A child's hand in yours – what tenderness and power it arouses. You are instantly the very touchstone of wisdom and strength." — Marjorie Holmes
37. "Mothers and their children are in a category all their own. There's no bond so strong in the entire world. No love so instantaneous and forgiving." — Gail Tsukiyama
38. "Becoming a mother makes you the mother of all children. From now on each wounded, abandoned, frightened child is yours. You live in the suffering mothers of every race and creed and weep with them. You long to comfort all who are desolate." — Charlotte Gray
39. "A Mother's love is something that no one can explain, It is made of deep devotion and of sacrifice and pain, It is endless and unselfish and enduring come what may, and nothing can destroy it or take that love away" — Helen Steiner Rice
40. "A newborn baby has only three demands. They are warmth in the arms of its mother, food from her breasts, and security in the knowledge of her presence. Breastfeeding satisfies all three." — Grantly Dick-Read
41. "Like a child who suddenly stops sobbing when he is clasped in the arms of his mother, such will be the grip of heaven upon our souls." — Ravi Zacharias
42. "A father may turn his back on his child, brothers and sisters may become inveterate enemies, husbands may desert their wives, wives their husbands. But a mother's love endures through all." — Washington Irving
---
Enjoyed? Share your favourite mother and child bonding quotes on your social media profiles.